Quality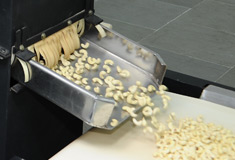 Lakshman & Co. is an ISO 22000:2005 certified company and have made operational a brand new Packing Line & Complex in Kerala in the first half 2010.
We have incorporated sophisticated machinery like vibratory separators, vibratory aspirators and also metal detectors in our packaging line to assure that only the best cashew goes into our packing.
Our personnel have a wealth of experience in cashew processing and are committed to maintain the highest levels of quality. The Quality Control team at Lakshman & Co. conducts frequent entomological survey and checks, at all processing and packaging centres. Top priority is given to hygiene and cleanliness. Prior to shipment each consignment undergoes a rigorous quality test conducted by us, ensuring that only the very best cashews are made available to our clients.
Our insistence on top quality, excellence and prompt delivery, has found ourselves a market among the quality conscious consumers of Japan, U.S.A, The Middle East, North Africa, Australia, Europe and South East Asia, which has ensured Lakshman & Co commands a premium over most shippers.
Ethics
Lakshman & Co has always firmly believed in ethical and legal practices & stood for the same even in the most difficult times for the industry. We can proudly state that we are among the leaders in this industry for adherence to legal practices, providing for our employees all the necessary statutory benefits & ensuring a safe working environment. In the labour front, Workers have been covered under the Provident Fund, Employees State Insurance, Gratuity, working hours, minimum wages, Kerala Cashew Workers Relief and Welfare Fund. We are firmly against Child Labour, Bonded Labour and employment of illegal immigrants.
As a member of the Cashew Export Promotion Council of India and the Association of Food Industries (AFI ),USA, Lakshman & Co has adopted high standards in commercial dealings.
We are committed to Fair Trade and nurturing a level and healthy market environment.
Quality Policy
"We accord the highest priority in maintaining the best quality and hygiene standards. Utmost care is taken to ensure that uniform quality is maintained right from procurement to processing and delivery. No effort is spared in making sure that the best hygiene practices are implemented throughout all operations."